Colca Canyon: Official 2023 Guide
Of all that can be done in Arequipa, Colca Canyon is arguably the top MUST-VISIT attraction in the White City
As the second-deepest canyon in the world (twice as deep as the Grand Canyon in the US), Colca Canyon is home to spectacular views seen no where else. With the majestic Condor bird flying overhead and welcoming communities along the way, you're in for an unforgettable experience when visiting the Colca Canyon. Whether you're an adventure seeker or a nature lover, it's the perfect spot for all types of travelers.
Did you know?
It's the second deepest canyon in the world with a depth of 4,160 meters (13,650 feet)
Tours and treks are the way truly discover the Colca Canyon
Findlocaltrips.com is a highly recommended website that finds and compares local tour operators. Check them out to find the best Colca Canyon tours and treks.
To get you ready, here is the ULTIMATE 2023 Colca Canyon guide.
Contents of this page
Overview
Situated at an altitude of 3,600 meters above sea level, Colca Canyon is one of those destinations you can't miss on your trip. Rocky paths, lush vegetation, Andean villages, and colcas – storehouses – are just some of the things that make up the Canyon. Many civilizations have lived here, the first being the Cabanas and Collaguas cultures in 600 AD – predating the Incas. These mentioned were already highly advanced in agriculture, giving way to many systems, structures, terraces and techniques that are still present to this day.
A canyon rich with culture and history, it's now visited by thousands of travelers making it Peru's third most visited destination. A wide range of tours, treks and excursions leave Arequipa daily and once there, you'll come across dozens of activities to enjoy.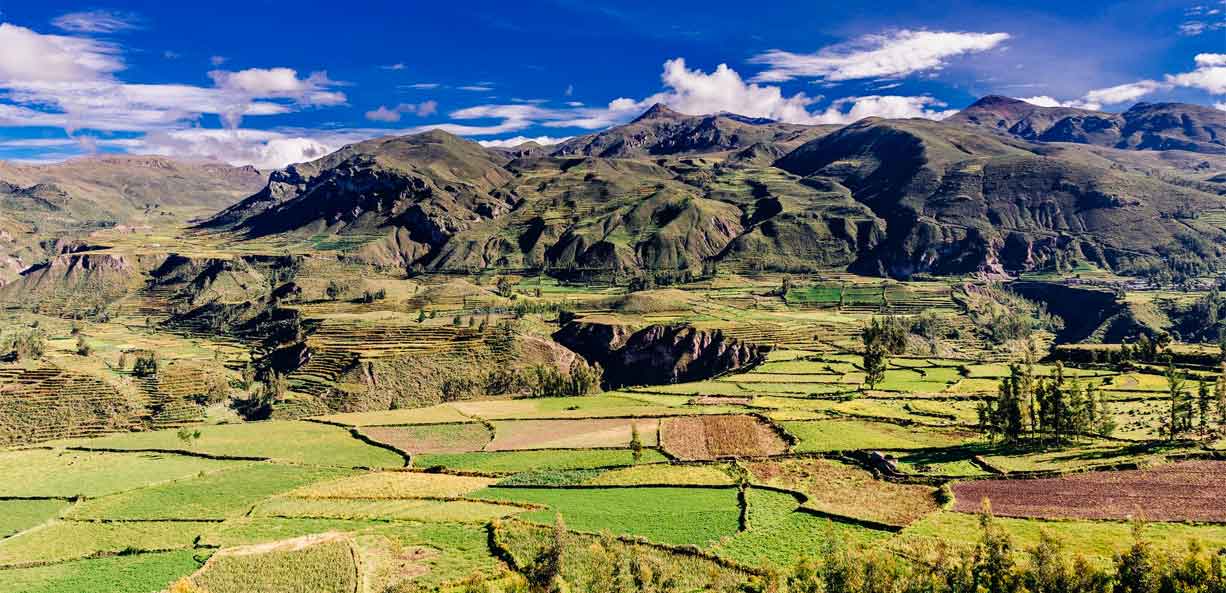 How to get to Colca Canyon
The best way to get to the Colca Canyon and truly discover it's beauty is with a tour or trek. The journey is a 3-hour drive and is considered by many as one of the most scenic trips in Peru. You'll pass through jaw-dropping scenery and views of mountains, volcanoes, and beautiful wildlife.
You'll have transport to and from Arequipa and some include stops for food or at viewpoints which make the trip much more enjoyable. It's also a great way to help out local communities as many tour operators give back and bring tourists to these spots that would usually be missed.
It is possible to go on your own, but not recommended as the extra organization and multiple buses/taxis you'll have to coordinate bring stress and take away some of the fun of the trip.
To get more detailed information, check out our How to get from Arequipa to Colca Canyon post.
Colca Canyon tours
One of the ways to see the beautiful landscape of Arequipa is by canyon tour. A number of different tours are offered to the Canyon, varying in length and price range. Most tours are either 1-day or 2-day experiences and prices are usually around the $30 mark.
On these tours, local people guide you through the canyon and show different scenery throughout. From the soaring condor bird at Condor's Cross, to local villages and Alpacas. These tours are available throughout the year and vary in difficulty, catering to all levels of physical ability. Most tours include pick-up from and drop-off to your hostel/hotel in Arequipa.
*Important to Note* – The official entrance fee of 70 soles must also be paid on these tours.
Colca Canyon treks
As well as tours, 2 or 3 day treks are also available. These treks tend to be a little more expensive than the tours, costing between $40-$50. On these treks, you'll experience what life in Colca Canyon is really like, sleeping in rustic lodges in the heart of the valley.
These treks are available throughout the year and the level of physicality involved spans from easy to difficult.
*Important to Note* – The official entrance fee of 70 soles must also be paid on these treks.
Tips and recommendations
Make sure to take cash with you to pay for the Colca Canyon entrance fee (70 soles) – no tour or trek includes the cost
Make sure to acclimatize at least one day in Arequipa to lower the risk of having altitude sickness
Tours are best for those short on time and wanting an easier experience
Summary
Hopefully we've finished convincing you to visit the magnificent canyon during your visit to Arequipa. Walking the same paths that the Incas and earlier settlers walked in the Colca Canyon is often an attraction that travelers overlook. Don't miss out on one of the most authentic sites in South America and book a tour or trek to the canyon. Trust us, you wont regret it!