Lima to Arequipa
Buses
Choosing a Company
Traveling to Arequipa by bus can be extremely easy if you choose a reliable service operator. Unfortunately, there are many bus companies with poor reputations in regards to safety and reliability. When researching bus companies to travel with, you will be faced with two options: public buses (Cruz del Sur and most other buses) or hop-on hop-off buses (Peru Hop). Hop-on hop-off buses offer a door-to-door pickup and drop-off service, adding to the security and safety of this type of travel immensely.
Our recommendation while traveling by bus is to opt for a hop-on hop-off option as their track records in regards to safety and reliability are far superior to those of public buses. In contrast, there have been a number of incidents and accidents with public buses in Peru. The best way to determine the safety of a company is to google "hijacking" or "accident" along with the name of the bus company. The results should give a clear indication as to the safety precautions taken by the company. It's also important to keep in mind the safety of your personal possessions, which can be stolen from bus baggage compartments.
The journey by bus takes between 16-18 hours, with a distance of 1,000km of road between Lima and Arequipa. Therefore, comfort on the bus that you select is essential. Most buses traveling this distance will have a tv onboard to entertain passengers throughout the journey. Other features adding to comfort and ease-of-travel include reclining seats and USB portals for each seat. As there are many companies operating routes between Arequipa and Lima, you should choose the company that caters to your needs most efficiently.
While traveling down the coast of Peru from Lima to Arequipa there are also a number of stops that can't be missed! The easiest way to see all of these sites is to choose a hop on hop off bus such as Peru Hop, since some of these locations are not even accessible by public transit.
Paracas is a beautiful small town located on the Peruvian coast. A four hour drive south of Lima, Paracas sees sun all year round. Paracas is home to both the Paracas National Reserve and the Ballestas islands where beautiful wildlife such as sea lions and birds can be observed during the boat tour. Alongside stunning beautiful scenery, Paracas is also a thrill-seeker's paradise with dune buggies and ATVs ready for rental at every second corner!
Huacachina is an area south of Paracas that is home to South America's only natural desert oasis. Alongside the only natural desert oasis, Huacachina also has the largest sand dunes in South America where the best dune-buggying and sandboarding tours in South America take place. With its incredibly sunny weather and stunning natural landscape, Huacachina cannot be missed when in Peru!
Nazca can be reached when you travel further south, beyond Paracas and Huacachina. This area was given its name as a result of the ancient Nazca culture that emerged from there between 100 BC. and 800 AD. Nazca is also home to the world-famous Nazca Lines, a series of huge geoglyphs that are etched into the Peruvian desert. To this day, it is still a mystery as to why these giant etchings were created.
While it is possible to see some of these destinations using public transit, the easiest way to see them all in one trip is by taking a flexible hop on hop off service such as Peru Hop. In fact, certain destinations (Huacachina, for instance) are not even serviced by other buses, so if you want to see the unique sights in between major cities, Peru Hop is definitely your best option.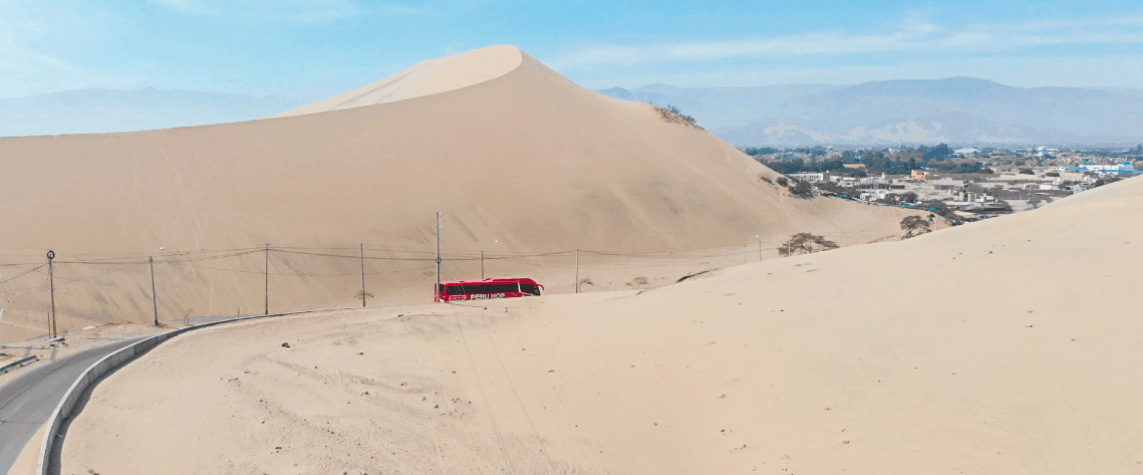 DISCOVER PERU HOP