Arequipa to Colca Canyon: How to Get There
Arequipa to Colca Canyon: 2023 updated information with all you need to know about how to get to Colca Canyon. What's best, what to bring, what to expect and more!
Once in Arequipa, you will mostly like have in mind a visit to the Colca Canyon, the second deepest canyon in the world. The canyon has been gaining more popularity through the years and has become a MUST for anyone visiting Peru due to its unmatched views and breathtaking scenery. So what's the best way to get to Colca Canyon from Arequipa?
Arequipa to Colca Canyon – quick overview
You can visit Colca Canyon in 1 day but if possible explore the canyon for 2 or 3 days
Public transport is avaibable, but not recommended as it can be a bit difficult
Best way to get to Colca Canyon according to travelers: with a tour/trek operator
Findlocaltrips.com is a highly recommended website that finds and compares local tour operators. Check them out to find the best Colca Canyon tours.
Arequipa to Colca Canyon (Chivay) distance: 102 miles (165 km) – around a 3-hour drive
There are many ways to get to Colca Canyon, day tours, and treks being the most common choice for those visiting it. It is possible to go on your own, but we recommend against it as it's not the easiest of destinations to get to.
Taking a bus From Arequipa to Chivay
The first thing you need to know its that the main access it's through the highway, and you can get there on your own using public transportation. You need to be at the Arequipa bus terminal early in the morning (3:00 AM) and just in front, you will be able to see small buses that can take you from Arequipa to Chivay for s/20 approx.
Quick Tip: Public buses and terminals are dangerous in Peru. Peru Hop is the only company that worries about safety and goes all south Peru.
It's a 3-hour journey (151 Km approximately) to the Colca valley. During the trip, you will ascend from 2,335 m.a.s.l (Arequipa altitude) to 4,000 m.a.s.l to get in Pampas Cañahuas at the national reserve of Aguada Blanca. An extensive gorgeous plain where you will be able to see different camelids such as Llamas, Alpacas, and Vicuñas in their natural habitat.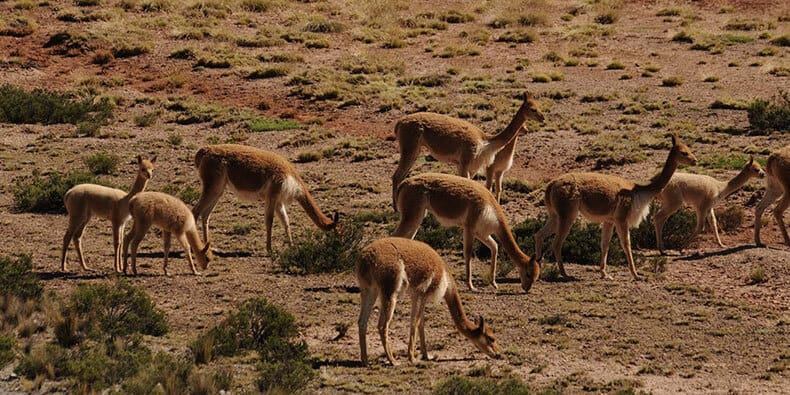 You will continue ascending until 4,800 m.a.s.l to get to the Volcanos viewing point, being this point the highest of the journey. From this viewing point, you will be able to see the stunning Misti and Chachani volcanoes and others that are part of the Andes mountains in the south of Peru.
Arriving at the Colca Valley
Later, you will be descending to 3,634 m.a.s.l until you enter the Colca Canyon itself and admire it in all its glory. Highlighting the ancient platforms and the irrigation channels maintained for many years. You will go through beautiful small towns and villages like Chivay, Yanque, Cabanaconde, and many others. These villages are gorgeous and they still maintain customs and traditions of pre-Incas and Incas inhabitants.
The Small Town of Chivay
The pretty small town of Chivay maintains the incredible colonial architecture with a strong religious influence. It has an altitude of 3,600 m.a.s.l with a cold-weather that challenges most travelers for the low temperatures registered during the night. It's a main point of the journey where you can find many touristic services: it has different options for hotels and hostels and different delicious restaurants with a variety of dishes from the local gastronomy at affordable prices.
Tours to Colca canyon
Chivay it's the starting point for many tours, treks, and hikes in the Colca Canyon. You have multiple options, but here are some of the most recommended:
Canyon trek of 2 or 3 days.
One day hike.
Relaxing in the hot springs of Chacapi or La Calera.
Admire the condors flying at the viewing point "Cruz del Condor"
Rafting at the Colca river.
Horse riding on the trails in the valley.
A quick tip: If you are going on any of these tours to the Colca Canyon, always look for the one that better suits your needs. Note that some tours might require a good physical condition as trekking could be involved.
To Colca Canyon From Arequipa: Recommendations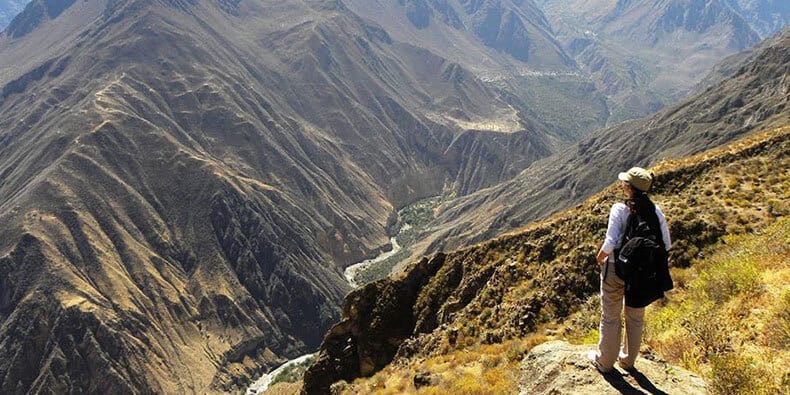 Next you can learn about what to bring, what to keep in mind and what to be prepared to when getting to the Colca canyon:
Bring Sunscreen: No matter what time of the year you decide to visit the Colca canyon, this is one of the most important things that you must keep in mind.
Drinks: Especially water. Keep yourself hydrated when you do any tour or trek. Don't drink any alcohol during the trip because it will do the opposite.
Coca leaf tea: You can also chew the leaf, but the tea is good enough to prevent altitude sickness.
Proper clothing according to the time of the year:

Between November and March. If you travel during these months, keep in mind that it will be the rainy season and it's gonna be hot, so make sure you bring with yourself a rain jacket and light clothes.
Between April and October. This is the dry season so it's gonna be really cold, so remember to bring enough warm clothes.

Swimsuit: After a long trek nothing compares to get relaxed at the hot springs, so don't forget to bring your swimsuit.
Tourist ticket or Entrance fee: You need to pay 70 soles to get in the Colca canyon – Many tour companies don't mention so keep it in mind!
Travel to Puno from Arequipa
To go back to Arequipa you have to take a bus back from Chivay and it will leave you in the main square "Plaza de Armas". Now you have gone from Arequipa to Colca Canyon, keep in mind that you can continue your adventure all the way to Puno from Chivay.
From Arequipa to Puno it takes around 8 hours on a bus. You can go to the public bus station and buy a ticket or you can choose the safest way to travel, with Peru hop, a recommended bus company that will take you to Puno and even to Cusco. Where you can follow the Inca trail and get to one of the New Seven Wonders of the Worlds, Machu Picchu.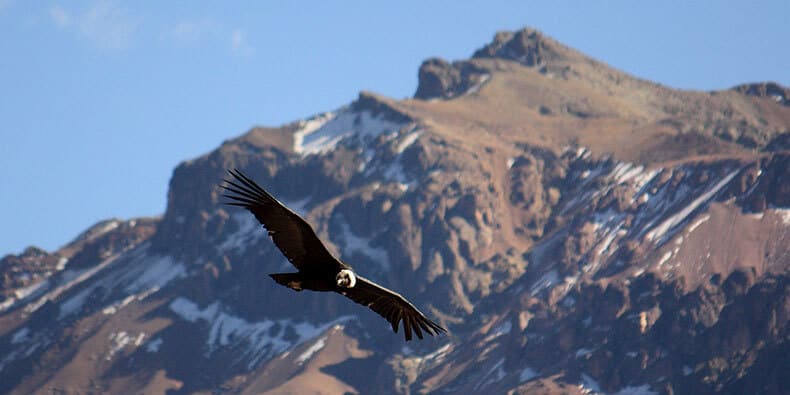 Among all the things to do in Peru, the Colca Canyon has become one of the main attractions in this colorful and diverse country, make sure to know everything about these places and plan your trip accordingly to your interests. Peru Hop is the best option for tourist transportation in this South-American country, recognized by its safety, fun, and flexibility while traveling.