Restaurants
Peru is commonly referred to as "The Food Capital of South America" and for good reason too! A distinct feature of Peruvian food is the blend of traditional cooking styles with newer influences, resulting in a unique combination of flavors and influences. As a result of these unique cooking styles, Arequipa boasts some of the best restaurants in South America. Along with typical Peruvian dishes such as ceviche and lomo saltado, Arequipa has a number of regional dishes and ingredients that are totally different from anything you've ever tried before!
Top 5 Restaurants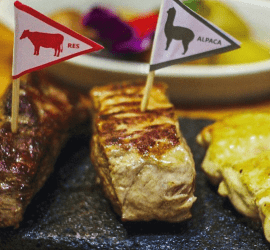 ZigZag Restaurant
This stylish restaurant offers Peruvian cuisine with European influences. The building itself is a 2-story colonial house with stained glass windows and a spiral staircase designed by Gustave Alexandre Eiffel. ZigZag is undoubtedly an upscale restaurant but it is not unaffordable, with mains priced from 33-45 soles. ZigZag will help you understand why Peru is known as South America's culinary capital.
Calle Zela 210, Arequipa, Peru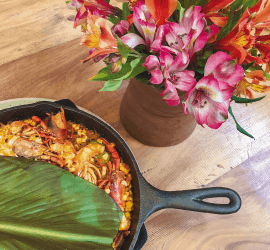 Chicha
The decor and menu at this traditional restaurant pay homage to the country's Inca and Spanish roots. Chicha prides itself on its use of fresh local produce to create inspired renditions of classic recipes. Some of its most popular dishes are: River Prawns (in season from April to December), Alpaca burgers and Lomo Saltado (strips of beef stir-fried with tomatoes, onions, potatoes and chilis). If you fancy trying local cuisine in a character-filled restaurant, then this Arequipa restaurant is for you. Prices of main courses in this restaurant range from 24-49 soles
Santa Catalina 210 Cercado, Arequipa, Peru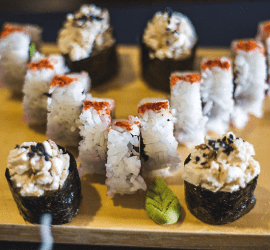 El Buda Profano
This vegan sushi bar is located in the historic center of Arequipa and is frequented by both tourists and locals alike. Easily one of the best up-and-coming Arequipa restaurants! A fantastic option for vegans/non-vegans alike.
Calle Bolivar 425, Cercado, Arequipa, Peru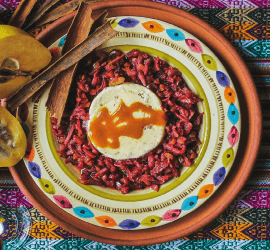 Hatunpa
This restaurant offers a huge array of potato-based dishes topped with a range of other ingredients (Alpaca, chorizo and veg). This place is every potato-lover's paradise … and your wallet will also thank you for eating here with prices ranging from 11-15 Soles.
Calle Ugarte, 208, Arequipa, Peru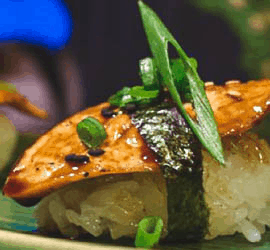 Misti Sushi Fusion
Misti Sushi Fusion is widely regarded as "the best sushi in Arequipa." Mouth-watering dishes are created through the unique fusion of Peruvian tastes and traditional sushi cooking techniques. Delicious food, friendly staff and affordable prices land Misti Sushi Fusion n our list of top 5 restaurants in Arequipa.
Avenida Quinones - Mz. F Lt. 11, Los Cedros, Yanahuara - Arequipa, Arequipa, Peru
Seafood
One of Arequipa's most famous dishes, chupe de camarones, uses crayfish or river shrimp, and you'll find many dishes utilizing trout from local streams as well. Despite its location in the mountains, Arequipa's surrounding region also has a substantial length of Pacific coastline, allowing fresh seafood and ocean fish to be brought to the city daily. Take advantage of this fantastic mix of fish and seafood at one of these top-rated restaurants below:
Pasta & Pizza
Italian cuisine is one of the most popular types of food worldwide and you will find that Peru is no exception! Arequipa boasts a plethora of excellent options for lovers of pizza and pasta, many incorporating unique and interesting local ingredients. Check out one of these great options below.
Healthy Food
Peru is not typically known as a haven for healthy eaters, with most typical fare consisting of massive portions of rice and meat. With that said, Arequipa happens to be an oasis for health-conscious eaters and dieters. You'll find no shortage of vegan and vegetarian options either (make sure to try solterito, a traditional dish of chopped vegetables). Check out one of these great healthy options below.
Churrasquería
Churrasco, a Spanish term referring to seasoned and grilled meat which is similar to the concept of barbecue, is a staple of Arequipa's cuisine. Churrasquerías serve up a wide selection of meats along with various sides. Be sure to visit one of these great options while you're in town.
Picantería
A picantería is a type of restaurant popular in the cities of Arequipa and Cusco. These traditional restaurants generally serve up a spicy dish called picante (hence the name of picantería) along with soups and chicha de jora (Andean corn beer). This type of establishment is practically an institution in Arequpia, and paying a visit to one is one of the best ways to experience the food and culture of Arequpia. Check out one of these great options listed below.