Cusco To Arequipa
Buses
Choosing a Company
With a distance of 491 km, the bus journey from Cusco takes approximately 10 hours. It is often best to travel from Cusco to Arequipa at night. However, this journey can be very cold as the bus makes the descent out of the high Andes mountains. It's important to bring warm clothing and blankets, or ask your bus company whether blankets will be provided.
Our recommendation while travelling by bus is to opt for a hop-on hop-off option (such as Peru Hop) as their track records in regards to safety and reliability are far superior to those of public buses. In contrast, there have been a number of incidents and accidents with public buses in Peru. The best way to determine the safety of a company is to google "hijacking" or "accident" along with the name of the bus company. The results should give a clear indication as to the safety precautions taken by the company. One of the services that hop-on hop-off companies offer is door-to-door pick-ups and drop-offs. This adds hugely to the safety of these companies, whereas public buses operate through public bus terminals (often attracting pickpockets and scammers.
On the way from Cusco to Arequipa, you can visit Puno, a small city built on the shores of Lake Titicaca, close to the Peruvian border with Bolivia. Puno's main attraction is Lake Titicaca itself, as the highest navigable lake in the world at 12,500 ft (3,830 m). Puno is often referred to as the 'Capital folklórica del Perú' (folkloric capital of Peru) from its unique cultural performances, particularly dance. On the lake, there are a number of islands made of totora reed which are home to the descendents of people who fled from the invasion of the Inca Empire, maintaining their distinct traditions ever since. These man-made islands are a truly unique attraction that no visitor to the region should miss!
If traveling with Peru Hop, excursions to the Uros Floating Islands and other amazing sights in and around Lake Titcaca are easy to book on-board the bus. If traveling by public bus, it's recommended to use the price comparison website findlocaltrips.com to research and book tours before departing.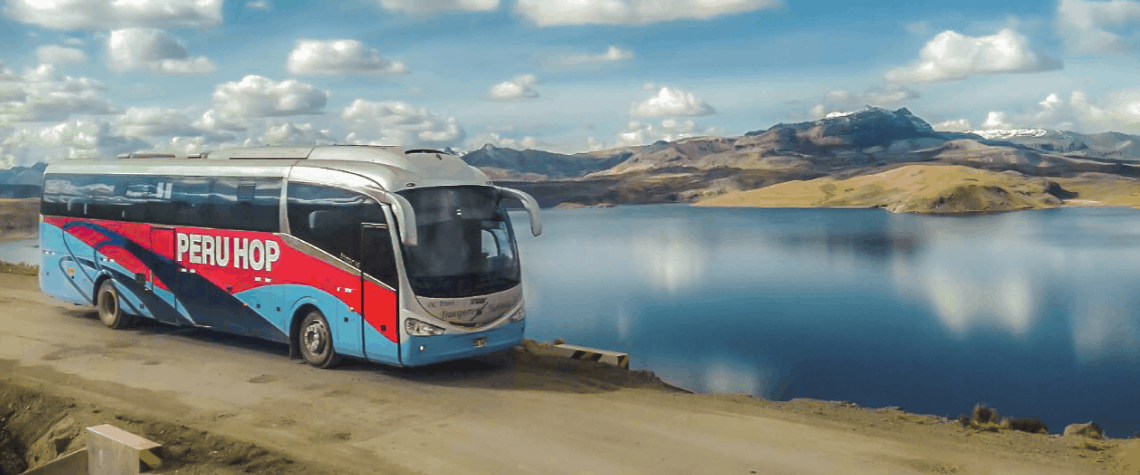 DISCOVER PERU HOP