Everything you need to know about Chivay Arequipa Peru
Are you ready to explore one of the most beautiful villages in the Colca Valley? Discover all you can find in Chivay Arequipa Peru and enjoy your visit to this charming village hide in the Andes.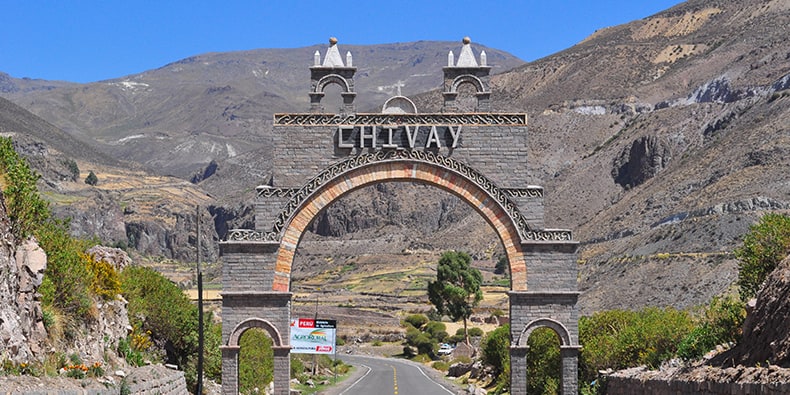 Arequipa is one of the most popular destinations in Peru due to its history and variety of natural environments scattered through the Colca valley. However, very few people know that within this valley live numerous communities that still practice ancient traditions and live the day to day thanks to the resources valley provides.
As you might have heard, when going to the Colca Canyon, consider the second deepest canyon in the world, people first make a stop in Chivay as this is the gateway to the Valley. Due to its location, many people visit the community to rest and prepare before the journey to the canyon starts.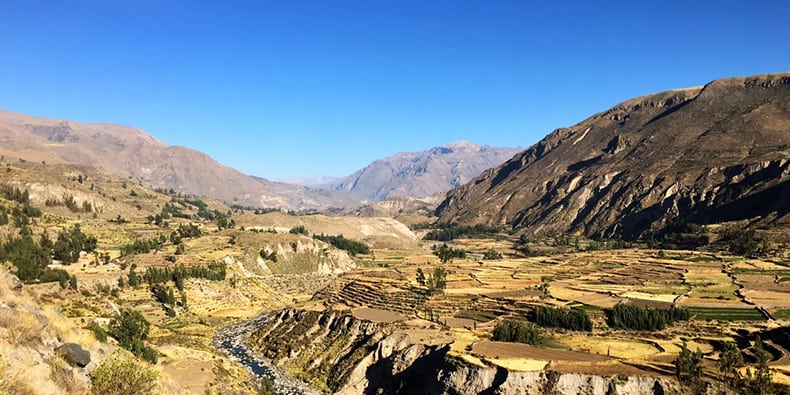 General Information
Chivay is a city that is over 3,600 meters above sea level, so only those with a very good physical condition can follow the incredible trails that its rural roads have to offer, as well as tolerate the low temperatures that are recorded in it, especially at night. Even though this sounds quite challenging, Chivay is the perfect place to get in contact with the Andes nature.
This community is divided into three sectors, the first one is known as Ccapa, which means Power; in this neighborhood, you can find not only the urban spaces but also one of its main attractions: The Calera Thermal Water Complex. The second, Urinsaya, is characterized by the great festive spirit of its people. Finally, we find the Hanansaya city where the agricultural activity is centered.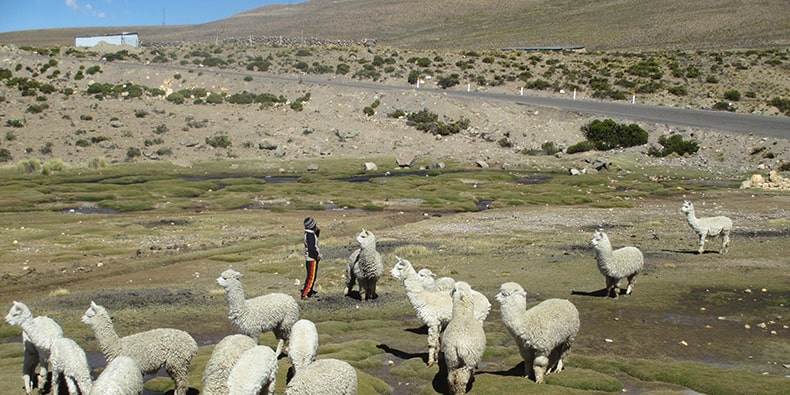 Traditions
This community is very attached to its traditions and beliefs. One of the most symbolic is the feast of "Virgen de la Inmaculada Concepción" taking place on December 8th. Just to mention, last year this event gathered around 15,000 visitors, including tourists and residents of the 18 districts. This celebration lasted 3 whole days when people danced, drank, and prayed to the virgin.
Dancers and participants regain their energy by eating traditional dishes in the market, where the people laugh and speak in Quechua. Chivay women dress in elegant and long skirts, blouses, and vests sewn in a baroque style, mainly with patterns of birds and flowers.
There is no doubt these people love their culture and are proud of being who they are. That's why every festivity held in these lands is always very memorable.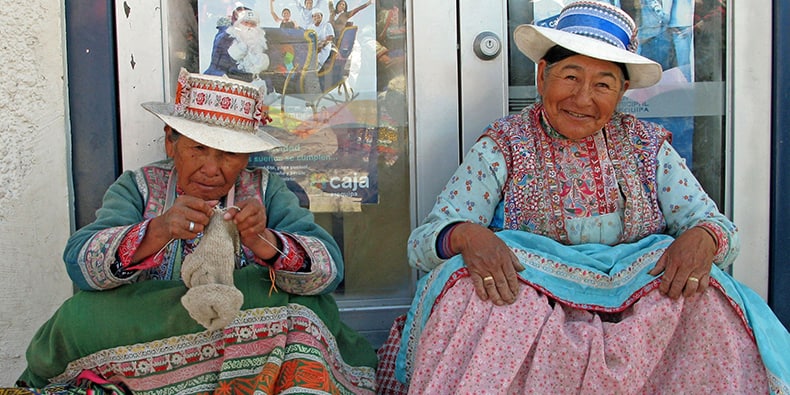 Attractions
Chivay Main Plaza:
Like most of the towns in Peru, Chivays has a beautiful "Plaza de Armas". Even though it's not that big, the view is quite good. There are many restaurants in the surroundings and you can find locals selling coca leaves or even delicious artisanal bread along with hot soups, perfect for the altitude.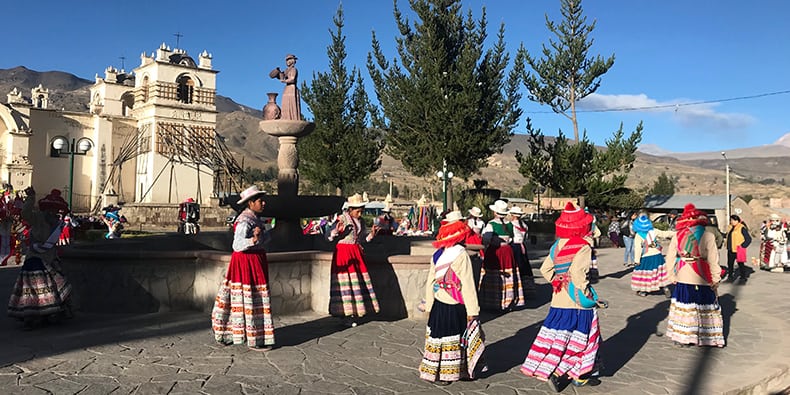 La Calera Thermal Waters:
This complex has 5 heated pools, and the water used is of volcanic origin, making it a special resource when practicing medical tourism. Among its components are calcium, zinc, and iron. These minerals are known to treat muscular, cutaneous, and bone discomforts among others.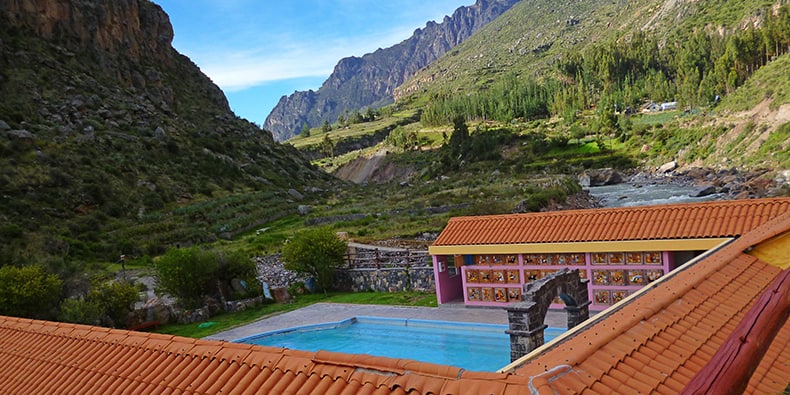 Patapampa viewpoint:
It's part of the Colca Valley and is considered the highest point of the Canyon with its 4,800 meters of altitude. It is a natural viewpoint, from whose top it is possible to observe the beautiful snow-capped mountains and volcanoes that surround the territory.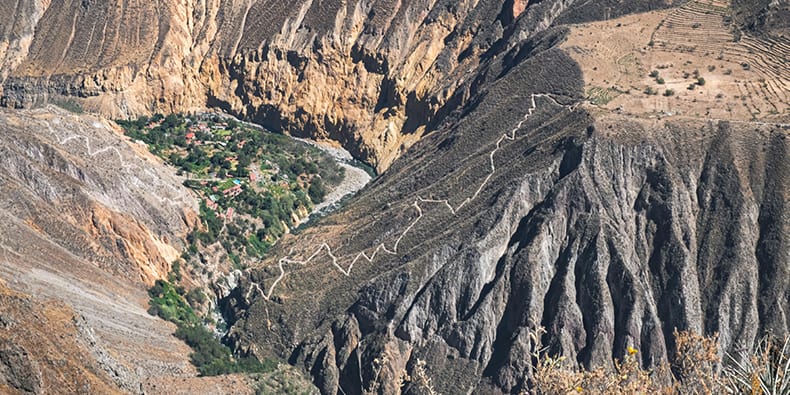 Patapampa road:
Cycling is practiced on this route, although, as in the case of excursions to the place, one must anticipate the fact that temperatures below zero are reached on the site, making it difficult to practice different activities in the territory if one does not take the necessary equipment and clothing.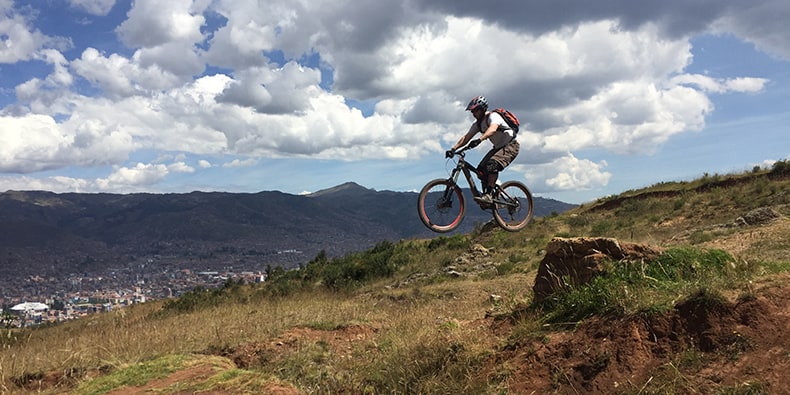 How to get to Chivay
It can be a bit complicated to get to Chivay if you decide to do it on your own, especially by road and public transportation. There are some vans that depart from Arequipa city every day towards Chivay, the cost varies a lot so take into account avoiding too cheap offers.
The ride lasts around 3 and a half hours and the road it's pretty safe so there is nothing to worry about. Consider always taking some cash with you as cards are not usually accepted in town.
Quick Tip: If you are looking to visit Chivay, the best way will be to go on a Colca Canyon tour. Usually, Chivay is the first stop where people can rest and relax before doing any other activity.